Vatican Rules & Regulations - Know What You Can & Cannot Do
The landlocked city-state of the Vatican came into existence with the signing of the Lateran Treaty in 1929. It is a land of great religious and cultural significance, drawing millions of visitors each year. By virtue of being the headquarters of the Roman Catholic Church, they have some strict rules and regulations in place. If you are planning a trip to the Vatican make sure that you familiarise yourself with these guidelines so that you can enjoy a hassle-free trip
Covid-19 Guidelines at the Vatican
Book your Vatican Museum tickets online.
Entry to the Vatican will therefore be restricted to those who have a Green Pass, a European Green Pass, or another COVID-19 green pass that confirms that they either have been fully vaccinated or recovered from Covid-19.
Access will be restricted to make room for social distancing. Arrive within 30 minutes of the time slot on your ticket to ensure entry.
Mask wearing is mandatory during the entire visit.
A temperature check will be conducted at the entrance. Those will a body temperature of 37.5° C or more will not be allowed entry.
Maintain a distance of at least 1 meter between people and avoid an overcrowding inside the Vatican Museums.
Guided tours of the Vatican Museums are open to a group of a maximum of 30 people.
Guided tours of the Vatican Gardens is open to a group of a maximum of 10 people.
The exit that provides direct access from the Sistine Chapel to St Peter's Basilica will be closed until further notice.
Disinfectant gel dispensers will be available throughout.
Vatican Rules & Regulations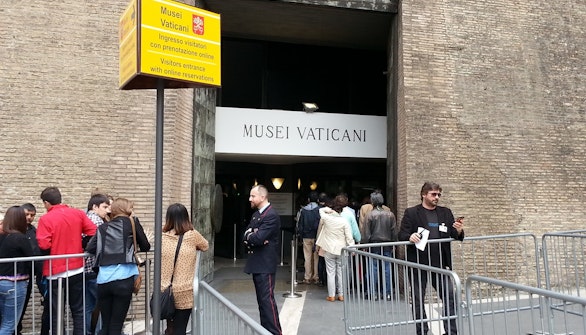 Dresscode
You have to be dressed appropriately to gain entry to the Vatican Museums, the Sistine Chapel, St. Peter's Basilica, and the Vatican Gardens.
Visitors are not permitted to wear sleeveless, low-cut garments, shorts that end above the knee, miniskirts, and hats.
Those with any visible personal objects or personal signs, such as jewelry or tattoos that may offend Catholic morality, the Catholic religion, and common decency will also be denied entry.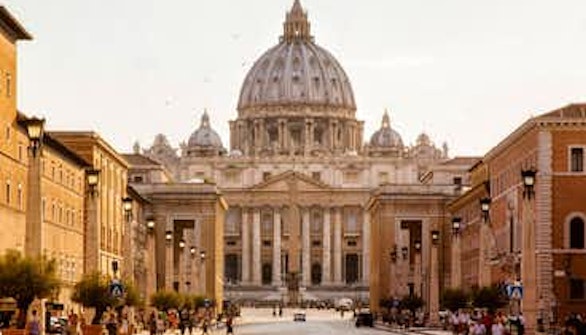 Personal Belongings
Visitors will have to leave luggage, suitcases, bags, packages, and containers bigger than 40 x 35 x 15 cm in the cloakroom.
Rucksacks that can be carried on the shoulders and don't exceed the widest part of the body by more than 15 cm can be carried inside.
Jewelry, valuable objects, wallets, phones, video cameras, etc cannot be stowed in the cloakroom.
However, visitors should not leave their baggage in the Vatican Museums if they are headed to St Peter's Basilica.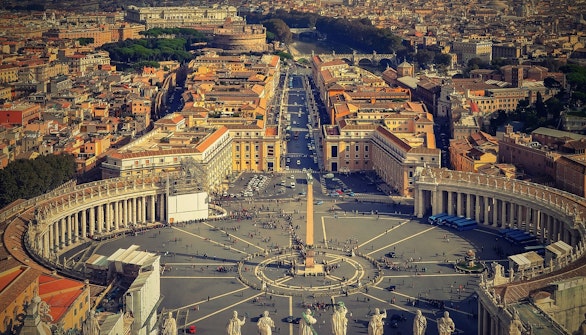 Forbidden Items
Medium and large umbrellas, as well as full-length non-folding umbrellas, sticks (walking sticks not included), video cameras, banners, and signs of any type must be left in the cloakroom. You can avail yourself of cloakroom services for free.
Knives, scissors, and/or metal tools of various types to be stored in the cloakroom.
Firearms or other dangerous materials cannot be brought into the Museums.
The use of any type of laser pointer and amplified microphones are not permitted in the Vatican Museums.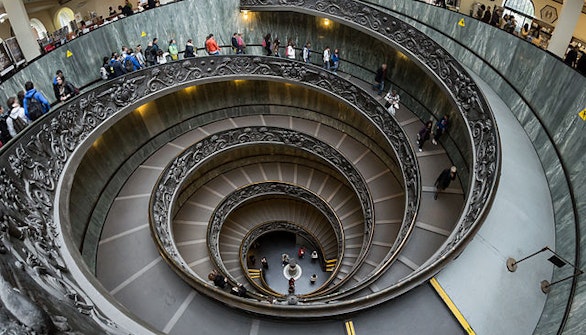 Food & Drink
Alcoholic beverages will not be allowed inside the Vatican Museums and must be left in the cloakroom.
You cannot eat or drink when inside the exhibition halls.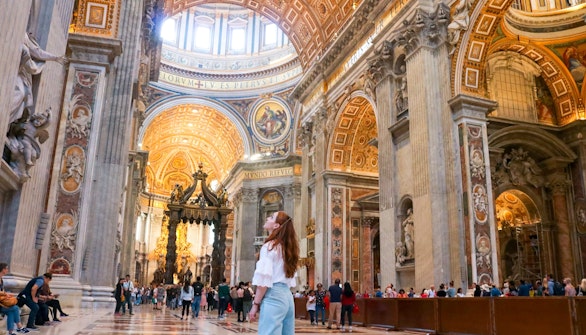 Phones
The use of mobile phones is strongly discouraged inside the exhibition spaces.
Phones must be kept on silent mode.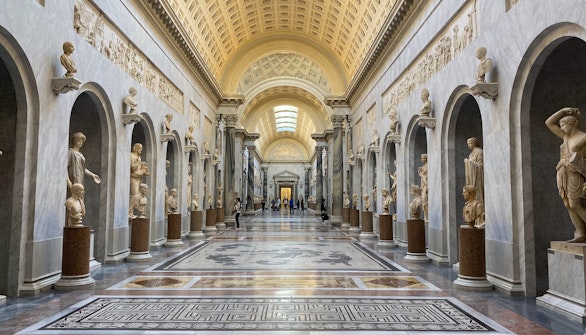 Smoking
The Vatican Museums are a "no smoking area".
Electronic cigarettes and similar instruments are also not allowed inside.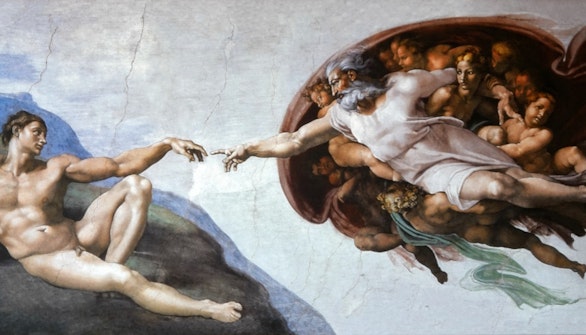 Visiting Sistine Chapel
While visiting the Sistine Chapel visitors are requested to observe absolute silence.
Photography is prohibited in the Sistine Chapel.
Using mobile phones is forbidden in the Sistine Chapel.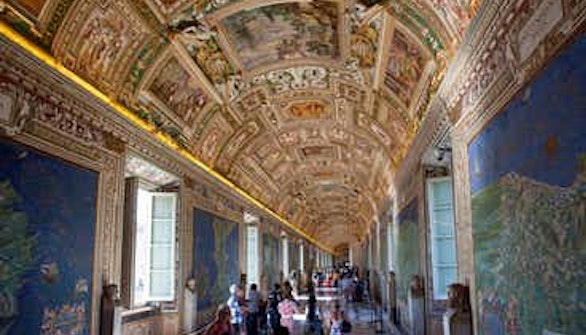 Pets and Guide Dogs
Animals are not allowed access to the Vatican Museums, as well as to the museum of the Pontifical Villas of Castel Gandolfo.
Guide dogs for the blind or partially-sighted are allowed. However, they must be equipped with a muzzle and lead. Inform the concerned persons by sending an email to accoglienza.musei@scv.va at least one day in advance.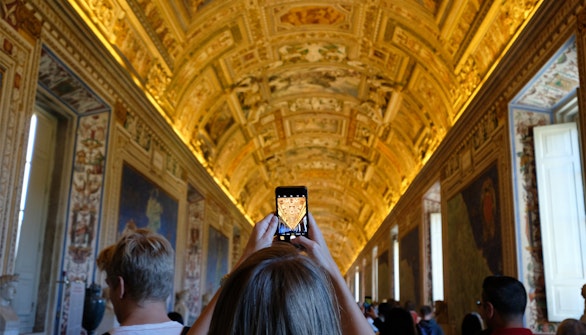 Photography
Visitors are allowed to take photographs for personal and domestic use only.
Flash photography is forbidden.
The use of tripods, stands, drones, selfie sticks, and/or professional equipment is not allowed.
Flash photography is strictly forbidden.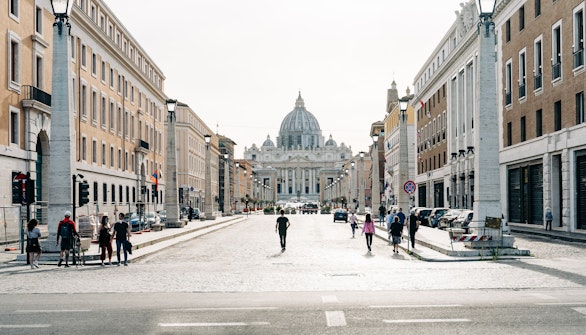 Refuse
Paper, tins, bottles, and other refuse must not be discarded in the Vatican Museums.
They must be placed in the appropriate containers placed outside the itinerary.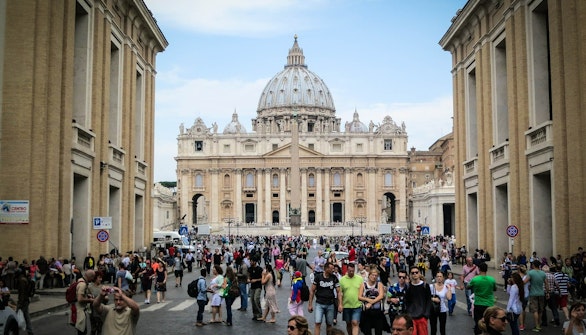 Lost & Found
If you have lost a personal belonging, report at the nearest security point.
If you have already left the Museums, email accoglienza.musei@scv.va.
All items stored in the cloakroom should be collected on the same day, before the closing of the Museums. If not, the item will be considered a lost property and destroyed within 48 hours.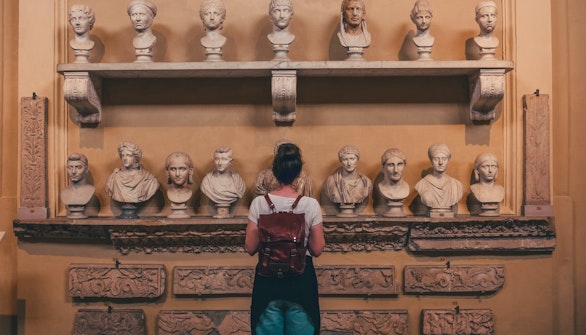 Safeguarding Works of Art
Visitors, apart from blind and partially sighted visitors participating in tactile and multisensory visits, are prohibited from touching the works of art throughout the museums.
Remember that all the works conserved within the Museums are equipped with an advanced alarm and video surveillance system.