Visiting The Vatican Museums in Rome | Plan Your Visit
Contents
Skip the Lines at Vatican
The Vatican is an extremely popular attraction and it is safe to expect long lines at the venue. In fact, if you visit the Vatican without tickets, you could find yourself waiting in line for up to 2 hours. However, it is not impossible to skip the lines. Book your tickets online to avoid the hassle and be sure to choose skip-the-line tickets to ensure a shorter wait line.
Know More >
Where is Vatican?
Address: Città del Vaticano, 00120 Vatican City
Vatican City, a landlocked sovereign city-state encircled by a 2-mile border with Italy, is located on the West bank of River Tiber.
Closest Landmark: Castel Sant'Angelo (2.1 km)
Directions to Vatican Museum
How to Reach The Vatican?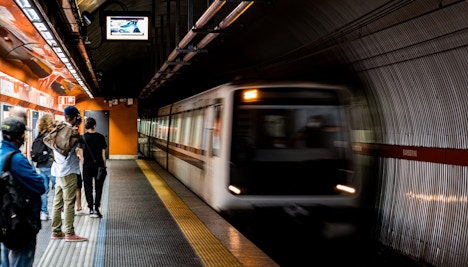 By Metro
Duration: 11-15 minutes
Board the metro from Spanish Steps, Trevi Fountain, or Roma Termini.
Take Line A to the Ottaviano-S. Pietro station. From here, St. Peter's Square is just a 5-minute walk away.
You can also alight at Cipro (8 mins) or Lepanto (16 mins) stations.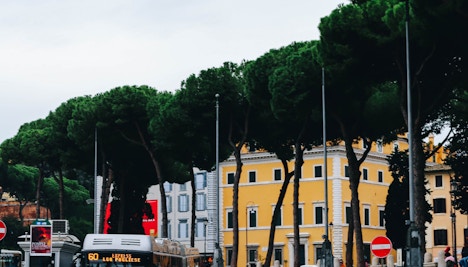 By Bus
Duration: 30-35 minutes
Bus 49 will stop at the square in front of the Vatican Museums.
You can also take 32, 81, 982, which stops at Piazza del Risorgimento (7 mins).
492 and 990 will stop in Via Leone IV / Via degli Scipioni (5 mins).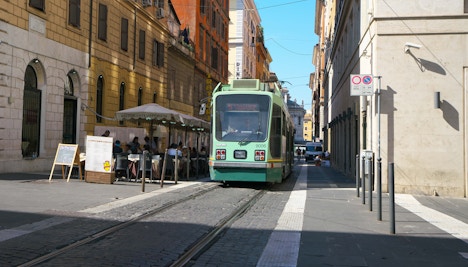 By Tram
Duration: 53 minutes
Take line number 19 running from Piazza dei Gerani.
The closest stop is Piazza del Risorgimento just outside the Vatican city walls.
A quick 7-minute walk will take you to Vatican Museum.
Know Before You Visit Vatican Museums
Facilities
Accessibility
Visiting with Family
Rules & Regulations
Glossary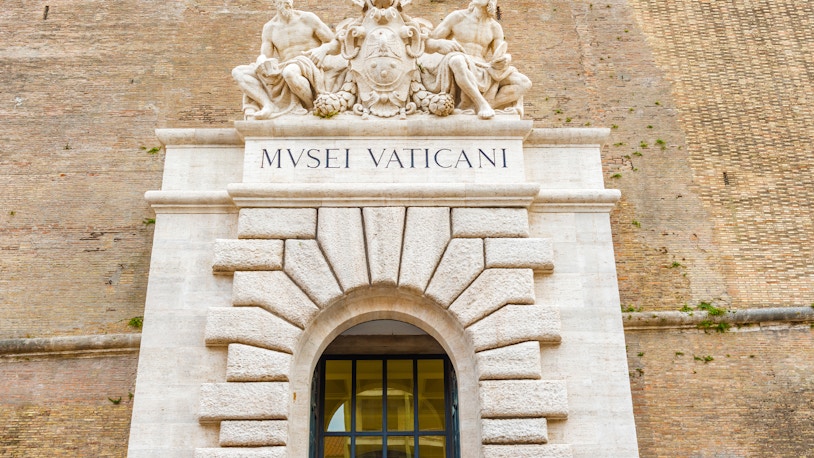 Cloakroom: Visitors can use the cloakrooms for no charge.
Audioguide: Have an MP3 reader accompany and guide you.
Lost & Found: Items that have not been claimed will be stored at the Vatican Gendarmery.
Post Office: Located adjacent to the Courtyard of the Cuirasses.
Bookshops: You will find many large and small bookshops throughout the Museum.
First aid: The staff is trained in emergency cardio-protective treatment.
Restrooms: Look out for the signposts to locate the restrooms.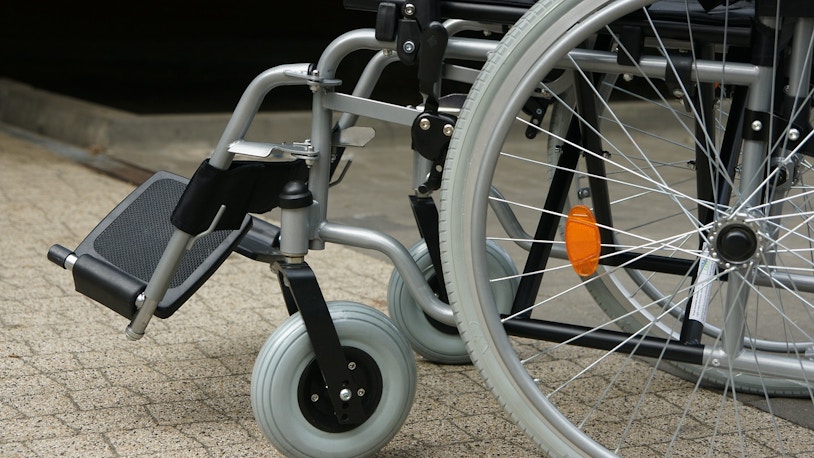 Free entry to all disabled visitors as well companions of visitors who are not self-sufficient. They will also be guaranteed priority skip the line entry.
Hire a wheelchair from the cloakroom (subject to availability). 
The Museums are accessible also to visitors on mobility scooters and with electric wheelchairs. However, in areas with space constraints, the visitor can transfer to a traditional wheelchair, which may be hired free of charge in the entrance hall.
Disability-friendly toilets are located throughout the museum.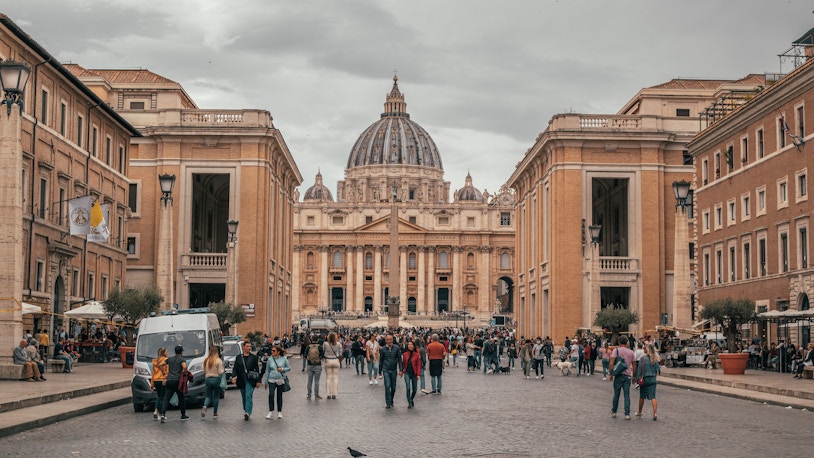 Strollers: Strollers are allowed entry. Families can use the special lifts for easy access to museum spaces.
Baby changing facilities: Some restrooms are equipped with changing facilities for babies and a nursing room.
Relaxation areas: Seats are located along the museum to enable the visitor to take a break and rest.
Children's menu: The Self Service corner of the Museums offers a special menu and high chairs.
Pre-booked lunch: Families can pre-book their lunch, which would ensure them a reserved table.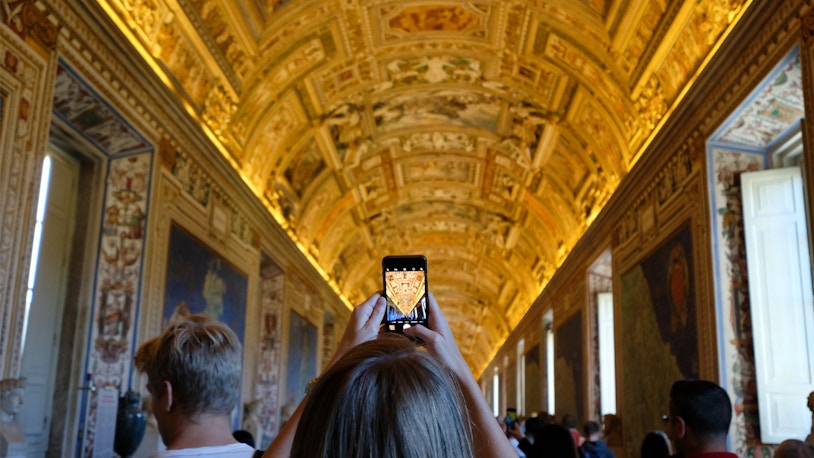 Those not dressed appropriately will not be allowed entry.
Animals, except guide dogs, will not be allowed entry.
You can take photographs, for personal use only, in all areas except the Sistine Chapel. 
Touching the works of art is prohibited.
You have to keep your phone in silent mode. Using mobile phones is forbidden in the Sistine Chapel.
Smoking is forbidden.
Know More Baldacchino: A canopy that rests over an altar or tomb, supported on columns.
Cartoon: Derived from the Italian word 'cartone', cartoon refers to a full-scale preparatory drawing for a fresco, oil painting, or tapestry.
Chiaroscuro: The use of strong contrasts between light and dark to achieve a sense of volume.
Fresco: A method of mural painting on plaster.
Icon: A sacred image.
Sarcophagus: A stone coffin.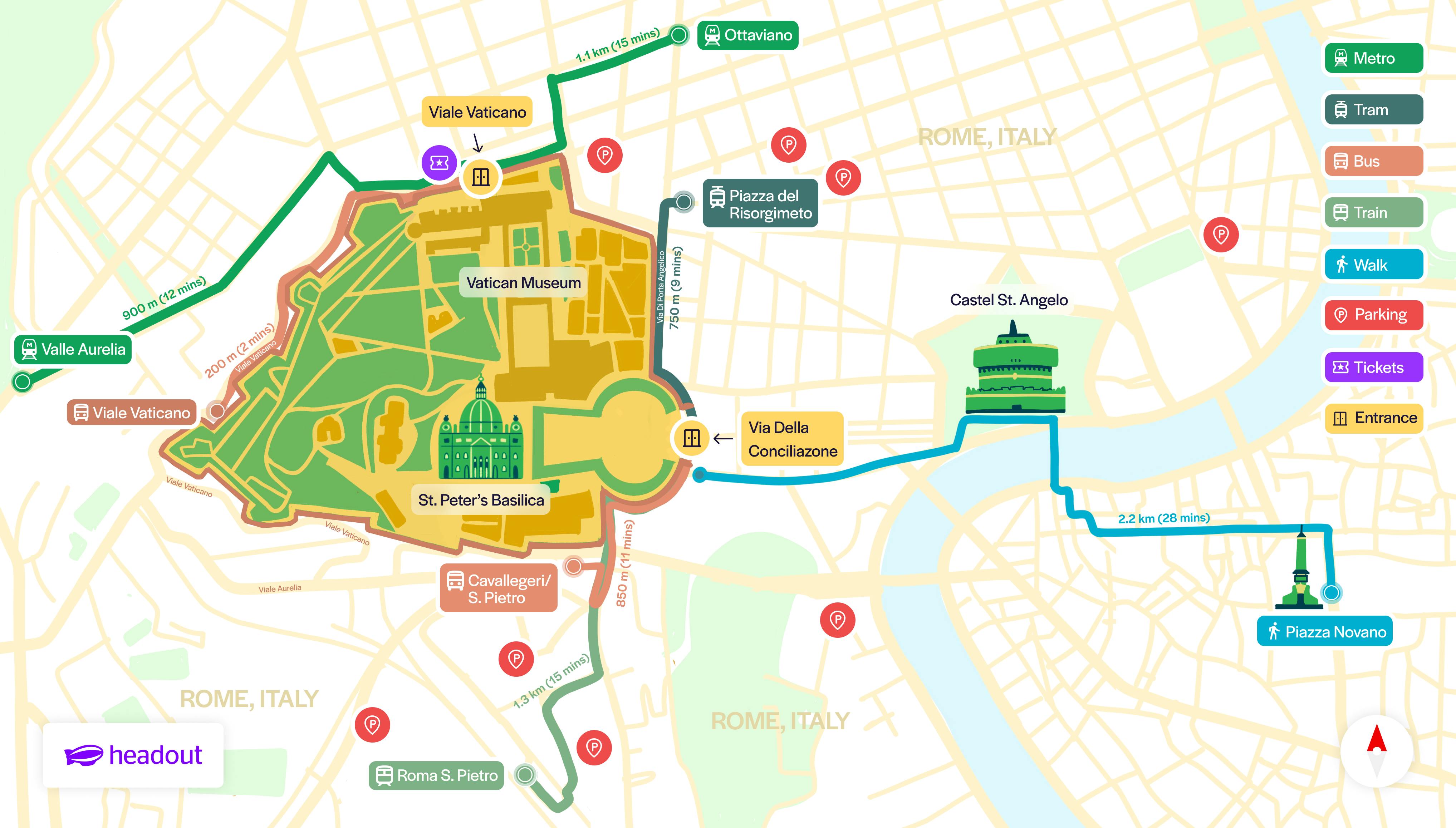 What is Inside Vatican Museums?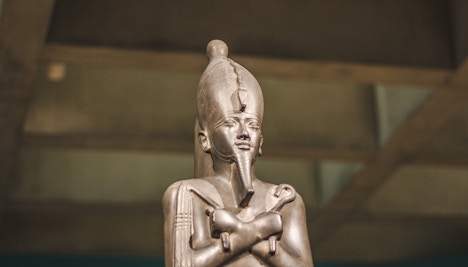 Gregorian Egyptian Museum
At the Gregorian Egyptian Museum, you can see sculptures, statues, and other objects that had been brought into Rome from Egypt, as well as some pieces of the Egyptian collection from the Hadrian`s Villa at Tivoli.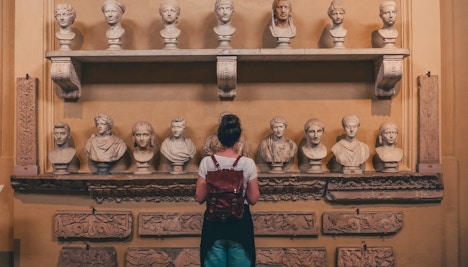 Pio Clementino Museum
The museum is made of twelve different rooms that showcases pontifical collections of classical sculpture dating back to the original collection of pope Julius II (1503-1513) and, donations from collectors and antiquaries.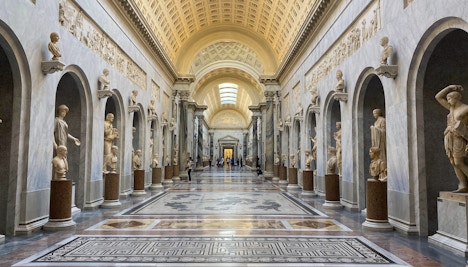 Profane Museum
The museum was created to display the non-religious objects of the Carpegna, Vettori, and Assemani collections present in the museum at the time of its founding.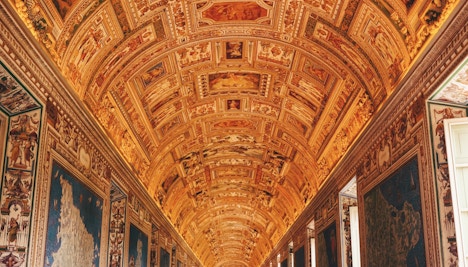 Borgia Apartments
The Borgia Apartments are a suite of rooms that were used as a residence by Pope Alexander VI. He had commissioned Bernardino di Betto to decorate the rooms with frescos in the 19th century.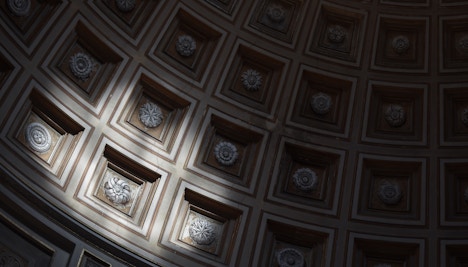 Lapidary Gallery
Curated by Gaetano Marini, the Lapidary Gallery features a stone library with epigraphs that are written on slabs, bases, memorials, urns, altars and sarcophagi, dating from between the 1st century B.C. and the 6th century A.D. Gregoriano Profano Museum
At the Gregoriano Profano Museum you will find original Greek sculptures, reconstructions of Greek originals made during the Roman age, and sculptures of the Imperial Roman age.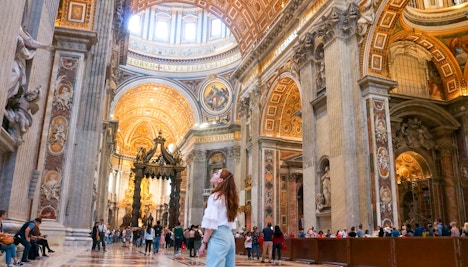 Pinacoteca
Inaugurated in 1932, the Pinacoteca is home to 460 paintings by some of the greatest artists of the history of Italian painting, from Giotto, who ushered in the Italian Renaissance, to Raphael's last painting. Sistine Chapel
A chapel in the Apostolic Palace in the Vatican City, the Sistine Chapel is known for the beautiful frescos created by Botticelli, Perugino, Pinturicchio, Ghirlandaio, Rosselli, and most importantly, Michelangelo.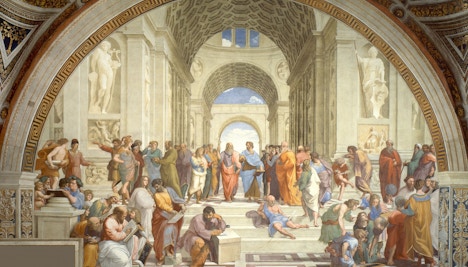 Raphael's Rooms
Four rooms form a part of the apartment in the Apostolic Palace that was chosen by Julius II della Rovere as his own residence and used also by his successors. These rooms are famous for the frescos painted by Raphael.
How To Book Vatican Tickets & Tours?
All Your Questions About Visiting Vatican
Q. What are the Vatican opening hours?
A. Till 31 October 2021, Vatican will be open Monday to Thursday from 8.30 AM to 6.30 PM and on Friday and Saturday, from 8.30 AM to 10.30 PM. From 2 Nov 2021, Vatican will be open Monday to Saturday from 8.30 AM to 6.30 PM.
Q. When is the Vatican closed?
A. Vatican will be closed on 1 November, 8 December, and 25 December
Q. When is the best time to visit Vatican?
A. Plan a visit during early mornings and late afternoons on a weekday between October to March (excluding Christmas Eve, Christmas Day and New Year's) so you can enjoy Vatican with the least amount of crowd.
Q. Where is Vatican Museums located?
A. Vatican Museums is located at 00120, Vatican City.
Q. How do I get to Vatican Museums?
A. You can get to Vatican Museums via metro, bus or tram.
Q. Is there a bookstore at Vatican Musuem?
A. There are many small and big bookstores located throughout the Vatican Museum.
Q. Do visitors at Vatican get access to Wi-Fi?
A. For security reasons, there is no Wi-Fi coverage within the museum premises.
Q. Are dogs allowed inside Vatican Museums?
A. No animals, other than guide dogs for those who are visually impaired, are allowed inside the Vatican Museums.
Q. Is Vatican Museum fully accessible?
A. Vatican Museum can be accessed on wheelchair; they offer guided tours in sign language for deaf and hard of hearing visitors, and tactile and multi-sensory tours for visually impaired visitors, among other things.
Q. Are there items that are prohibited inside the Vatican Museum?
A. Luggage, suitcases, rucksacks, packages and containers not considered suitable by staff, umbrellas, sticks, tripods and stands for photography, video cameras, banners and signs of any type, knives, scissors and/or metal tools, firearm, or alcoholic beverages are not allowed inside the Vatican Museums.
Q. Can I take photographs inside the Vatican Museums?
A. Photography, for personal and domestic use, is allowed in all part of the Vatican Museums, apart from the Sistine Chapel. Flash photography is strictly forbidden.
Q. Can I use my phone inside the Vatican Museum?
A. The Vatican Museums strongly discourages the use of mobile phones inside the exhibition spaces. Keep your phone on silent mode. The use of mobile phones is strictly forbidden in the Sistine Chapel.
Q. Are there restrooms inside the Vatican Museums?
A. Yes, there are restrooms located all throughout the Vatican Museums. Just look out for the sign posts indicating where they are.